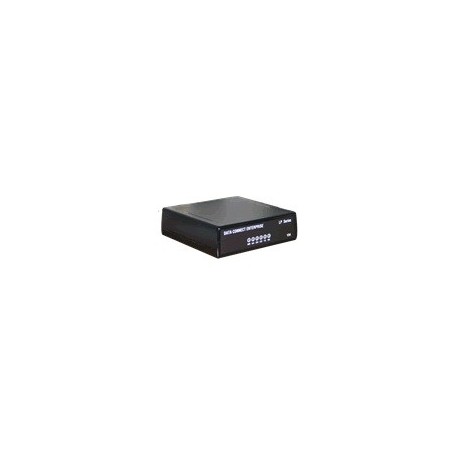  
V3600LP+
ITU-T V.34 33.6KBPS STANDALONE DIAL ONLY WITH SECURITY 12VDC/100-240VAC/100-400VDC
Remote access modem offer significant cost savings and reduce network downtimes by eliminating the need to dispatch personnel to remote sites to reconfigure alarm and control systems, phone switches, diagnostic ports, remote access servers, and supervisory channels. However, these benefits come with the risk that unauthorized access to remote facilities could disrupt your network and cripple your business operation with the Data Connect V.3600LP+ Series family of remote access modems, it is no longer necessary to accept the security risk associated with unprotected remote access installations. Data Connect 's V.3600LP+ series provides the full range of advanced modem features found in our series V.3600LP family, combined with a comprehensive set of security and access control features. The V.300LP+ Series implements the full range of security features defined in the Bell core Local Access and Requirements (LSSGR) in a cost effective industrial package. If you are managing highly secure remote access points, The V.3600LP+ series modems offer the most advanced security features available. Now you can access remote configuration, diagnostic, console ports, and supervisory and control channels over secure connections. With the V.3600LP+ Series, password protection, the cornerstone of most security strategies, can augment with a wide range of feature options. These features can be used to implement the multi-faceted type of access control recommended by most security experts. In addition, a comprehensive audit trial provides a historical view of access attempts, allowing your security personnel to identify "at risk" facilities.
Features
User ID/Password-Capable of storing as many as 400 passwords can be configured to operate with or without a password prompt.
Retry Limits-Designed to foil the conventional trial and error approach to unauthorized access.
Caller ID Verification-The Caller ID feature requires that caller's telephone number present in the modem's database.
Non-registered numbers will not receive modem supervision.
Closed User Groups- Built in challenge response algorithms may be enabled to create closed user groups of DCE security modem
Automatic Call Back-Is configured to initiate a call back to a users modem, insuring that access is originated from known terminal or locations.
Password Aging –Insures that passwords are changed on a specified schedule.
Enforced Syntax- Implements password policies with regards to alpha, numeric and control type characters
Audit Trial with Precision Time Keeping-With the audit trial facilities, there is never a question about who has gained access or who has tried to gain access of your installation.
All attempts to access a V.3600LP+ series device are stored in a nonvolatile audit trail along with the date and time.
Specifications
Remote Configuration– The remote configuration facilities of V.3600LP+ Series modem will allow you to remotely maintain passwords, review the audit trial or modify any parameter of the device. Additional configuration commands allow you to select DTE bit rate, character length and parity. Remote configuration access may be restricted to specific passwords.
Device Management Software–
This optional software automates audit trial data collection and simplifies password management for large, distributed networks.
Feature Overview
Standard 2-wire dial-up
AT Command Set
Standard Error Correction and compression
RS-232 Asynchronous DTE Support Remote Configuration
See LP Series datasheet for a complete description of modem capabilities
Data Compatibility-
V.34, V.32bis, V.32, V.22bis, V.22, V.23, V.21, Bell 212A, Bell 103j
DTE Interface–
Physical- DB9 connector Electrical-RS-232F (V.24). Asynchronous: Auto baud or selectable formats and rates to 11.2Kbps with V.32bis
Auto Dial Modes–
Standard AT compatible dial commands or DTR dial of stored number.
Answer Modes–
Standard auto answer or manual answer under DTE control.
Error correction–
V.42 and MNP 2-4 error correction
Data Compression–
V.42bis and MNP5 data compression
Configuration Control–
Standard AT commands for both local and remote configuration
Diagnostic- V54 throughout AT commands
Network Interface–
2-wire, pulse or DTMF dial.
XMT level: -12dBm
RCV sensitivity: -43dBm
Power–
Standalone units automatically adjust to 14-54VDC
Standard S1900 Rack mount unit automatically adjust to 85-265VAC, 27-440Hz. Optional 48VDC supply.
Environmental-
Operating temperature range:
-20˚C to 70˚C. Humidity: 90% non-condensing
Approvals–
FCC part 68& part 15, class A
Optional: international approvals available
Ordering Information
DCE/V3600LP+ V3600 LOW PROFILE
DCE/3342LP+ V.34BIS LOW PROFILE