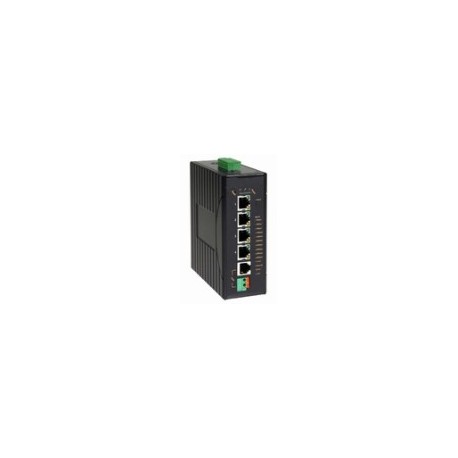  
Industrial Grade Multi Drop Ethernet Extender 2178MDEE 2-pack
50mbps 10/100base-tx multidrop temperature rated industrial ethernet extender 2-pack
The Data Connect DCE/ 2178MDEE Industrial Grade Multi Drop Ethernet Extender is an one 8-port 10/100Base-TX switch and two 2-wire Ethernet ports used to extend Ethernet up to 300 meters (984 feet) at 50Mbps over two existing voice grade copper wires. A simple single switch allows for a choice between local or remote setting. Thus select local for side A of the circuit and select remote for side B of the circuit.
The DCE/2178MDEE is fully managed via SNMP, Web Browser, Telnet or Console port and is designed to integrate 10/100 Mbps networks into VDSL backbone.
The DCE/2178MDEE supports advance features such as 802.1Q VLAN, MAC-based Trunking, IPMulticast IGMP Snooping, Rapid Spanning Tree for Redundancy, QOS foe Priority Queuing, and Port Mirroring. The DCE/2178MDEE functions at temperatures ranging from -40 Degrees Celsius to 75 Degrees Celsius (-40 Degrees Fahrenheit to 167 Degrees Fahrenheit) and tested for functional operation at -40 Degrees Celsius to 85 Degrees Celsius (-40 Degrees Fahrenheit to 185 Degrees Fahrenheit). The DCE/2178MDEE complies with NEMA TS1 & TS2 that meets with Environmental requirements for Traffic Control equipment and complies with IEC61000-6-2 EMC, a Generic Standard Immunity for the industrial environment.
Ø Complies with NEMA TS1 & TS2 Environmental requirements for Traffic Control equipment
Ø Complies with IEC61000-6-2 EMC Generic Standard Immunity for industrial environment
Ø Ethernet Port: 10/100Mbps-Full/Half duplex, Auto-Negotiation, Auto-MD/MDX
Ø Ethernet Extender (RJ11 and Terminal) Port: Symmetrical on the VDSL, High speed, Full-duplex, 50Mbps communications link over existing copper Telephone Line
Ø IEEE802.1w RSTP, IEEE802.1S MSTP and IEEE802.1D STP compatible
Ø IP Multicast Filtering through IGMP Snooping V1, V2, & V3
Ø Supports port-based VLAN and IEEE802.1Q VLAN Tagging and GVRP
Ø IEEE802.1P QOS with four priority queues
Ø Mac-based trunking with automatic link fail-over
Ø RS232 console, Telnet, SSL/SSH, SNMP V1, V2C, & V3, RMOM, Web Browser, and TFTP Management
Ø Supports Command Line Interface in RS232 Console
Ø Supports IEEE802.1X Security
Ø Bandwidth Rate Control
Ø Per-port programmable MAC address locking
Ø Up to 24 Static Secure MAC addresses per port
Ø Port Mirroring
Ø 1000Mbps-Full Duplex, 10/100Mbps-Full/Half duplex, Auto-Negotiation, Auto-MD/MDX
Ø Full wire-speed forwarding rate
Ø Redundant Power Inputs with Terminal Block and DC Jack
Ø -40 Degrees Celsius to 75 Degrees Celsius (-40 Degrees Fahrenheit to 167 Degrees Fahrenheit) operating temperature range
Ø Hardened aluminum case
Ø Supports NTP
Ordering Information
DCE/2178MDEE
DCE/2178MDEE-2PK
DCE/2178MDEE-DC12J
DCE/2178MDEE-DC12TB
DCE/2178MDEE-DC48TB